Rule of 6
As of Monday 14th September, in line with government restrictions, we are putting a limit on how many people we will allow to enter in one social group. Each group will be limited to a maximum of 6 people, this includes climbers and non-climbers of all ages. It is your responsibility to ensure that your group is no more than 6 people. If your group is over 6, your group will be refused entry and no refund will be given.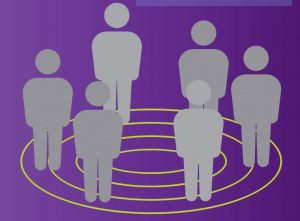 Face Coverings
Visitors over the age of 11 years of age are required to wear a face covering around the building, when not climbing, eating or drinking. We do ask that climbers wear a face covering when attending the safety briefing but this can be removed when entering the climbing arena. Those dining in our café area are exempt from wearing face coverings when enjoying their food and drink.
All users of the Vertical Drop slide are required to wear a face covering.
Our sessions
We have changed the way we run our sessions, we have reduced the capacity and changed the frequency that people enter the arena. This means you will be climbing with the same people for the duration of your session, therefore reducing the number of people you come into contact with. Children aged 4 and 5 years old are able to have an adult 'Clipper' in the climbing arena with them, however children aged 6 years plus cannot have a spectator in the arena with them. Our staff will be on hand, in appropriate PPE, to help your child; if you would like to go in the climbing arena with an older child, you need to book yourself in to climb too.
The session time you book, is the time that you will enter the centre and go straight to your briefing. After your session, there is a 15minute cleaning slot, in which we clean our climbing arena.
Please note that some walls will only be available for half of the session to allow for social distancing. Members of the same house hold are able to climb Jungle Gym and Astro Ball at the same time; however we ask that people from different households do not use these climbs at the same time in order to maintain social distancing.
#ClipClimbClean Before entering the arena, you will be required to sanitise your hands and shoes, a member of staff will direct you to a climbing wall and then come to you to carry out your practise climb. We ask that you use one of the sanitiser stations located in the climbing arena every couple of climbs, remember #ClipClimbClean. If you have pre booked the Vertical Drop Slide you will be given a numbered wrist band, a member of staff will inform you when it is your turn to use the Vertical Drop Slide. 5 minutes before the end of your session you will hear a loud horn; three blasts of the horn will then signify the end of your 55minute session, we ask that you unclip and wait at the bottom of your final wall and a member of staff will come to you to guide you through removing your harness before leaving the arena.
Please note the The Vertical Drop Slide and Stair Way to Heaven have a minimum height restriction of 1.2m. Those using The Vertical Drop Slide will be required to wear a face covering, which needs to be supplied or purchased on site.
Non Climbers
Children of primary school age can have one adult attend the briefing session with them, children of secondary school age may have to attend the briefing by themselves, whilst their parents go through to the café area. Children aged 4 and 5 years old can have an adult 'Clipper' in the climbing arena with them, as long as you remain next to the mat, at the bottom of the wall your child is on. Our staff will be on hand to help all other climbers in the climbing arena.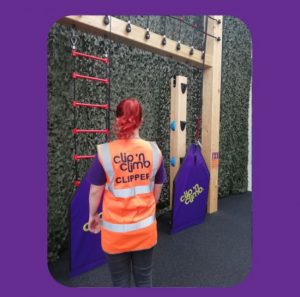 Our Environment
When you visit us, you will notice that we provide the same clean environment, just cleaned more frequently. You'll notice a few new additions to our site too: we have more sanitising stations, including a sanitising mat to sanitise your shoes before you climb; sneeze screens at our reception and café counters and we have relocated our briefing area to a larger room.
We have also introduced a one-way system so keep your eyes peeled for signage informing you which way to go.
Please note we are a cashless site.
Our Staff
Our staff team have had additional training in the 'new normal' to ensure they are confident in new policies and procedures.
We carry out temperature checks on our staff to ensure they do not have a temperature of 38° or above. If a staff member is showing one of the recognised symptoms of Covid-19 they are not permitted to work.
For some of their duties, where social distancing may be hard to maintain, staff will wear appropriate PPE to protect both you and themselves.
Our Café
We will still be serving the same delicious coffee, cakes, pizzas, toasties and snacks. At the present time, we are unable to allow customers to remain in the café area for longer than 20minutes after the end of their session, however if you want to order in advance we can have your order ready for the end of your climb or put it in take-out packaging for you.
Covid-19 Signs and Symptoms
All amendments to the way that we run have been made with the best interest of both you, our customers, and our staff. We will be ensuring we have the details of everyone in your group and keep these on record for 21 days, this allows us the support the Government Track and Trace System.
On arrival, we will be asking customers to confirm whether they or immediate family members have any of the recognised symptoms of Covid-19. If the answer is "yes" then they will be asked to leave.
Customers will also be required to have their temperature checked on arrival, anyone with a temperature of 38° or above will be asked to leave.
If you know you are unable to climb due to recognised symptoms of Covid-19 please email us at info@clipnclimbbicester.co.uk quoting your booking number.
If you are unable to climb for any of the above three reasons, we will re arrange your booking to a date between 14 and 84 days from the date of the original booking.
We have worked with Entre-Prises UK and UKActive to ensure that we meet the highest standards when it comes to being Covid secure.
Please read on to see what we have done to play our part in controlling the virus.
As part of UKActive's #Fittogether campaign we have carried out a detailed Business ReOpening review.
We're delighted to be awarded the VisitEngland 'We're Good to Go' industry charter mark. That means that Clip 'n Climb Bicester meets to Government and public health guidance on Covid-19 and that we have all the required health and safety processes in place to safely reopen.