June 2020
We have made several changes to the way we run to enable us to be Covid Secure. At present we are unable to open due to being a sector that the government has not yet lifted restrictions on. However, as soon as we are able to open again, we will be welcoming you back to climb. 
April 2020
If you already have vouchers with a 6 month expiry, we are pleased to share with you that we are extending these to have a 12 month expiry from the date issued.
We are delighted to share that we are extending our FAST Card sessions, so if you have a Thursday 4pm FAST Card climb booked in with us, this can be moved to a future session once we re open.
27th March 2020
Clip 'n Climb Bicester have had to suspend bookings due to the UK government imposing a ban on leisure facilities being open as part of a nationwide attempt to combat the Corona Virus epidemic currently in the UK.
We are sure many of you are as disappointed as we are, that you are unable to come to Clip 'n Climb Bicester. As the suspension of these bookings is out of our hands – please be advised that we can offer to either amend your session to another date within the next 12 months, or we can issue you with vouchers for the value of your booking.
We appreciate that these are uncertain times for many, so if for any reason you amend your booking, then need to amend it again, please do not hesitate to contact us to do this.
Please continue to visit our website, in particular our page relating to Covid-19 https://bicester.clipnclimb.co.uk/covid-19/ for updates as well as following our social media pages.
Please contact us via email, info@clipnclimbbicester.co.uk to amend your booking (where possible include your booking number, name, date and time your booking was for plus a new date and time) or process your vouchers – our response may be a little slower than normal due to, like many of you, working from home and juggling home schooling and work.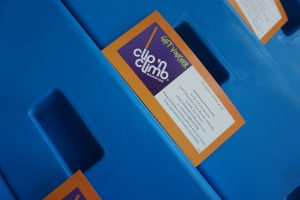 20th March 2020
We have had an amazing past 7-8 months at Clip 'n Climb Bicester, turning a warehouse into this great climbing arena, and building a fabulous staff team who we cherish and care for deeply. We have been delighted to meet so many new people and share in your enjoyment when you come climbing with us. It is with a heavy heart but a clear conscience, that we temporarily hang up our harnesses and for now close the doors to Clip 'n Climb Bicester.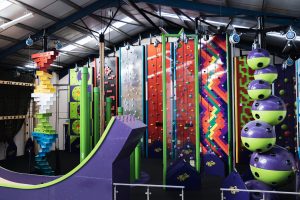 In light of the government's decision to close schools, to increase social distancing, we don't feel it is right to encourage people to join together and gather in social groups as we as a country tackle this Corona epidemic.
So as we are forced to press pause on being open, we would like to assure you that we are working hard behind the scenes to develop and continue to work on projects to improve and expand the sessions we offer. We are also looking at ways that we can phase re opening to allow everyone to climb in a safe environment in these current times.
Thank you for your support and patience in these strange time, our best contact at this time is: info@clipnclimbbicester.co.u